Candidacy Announcement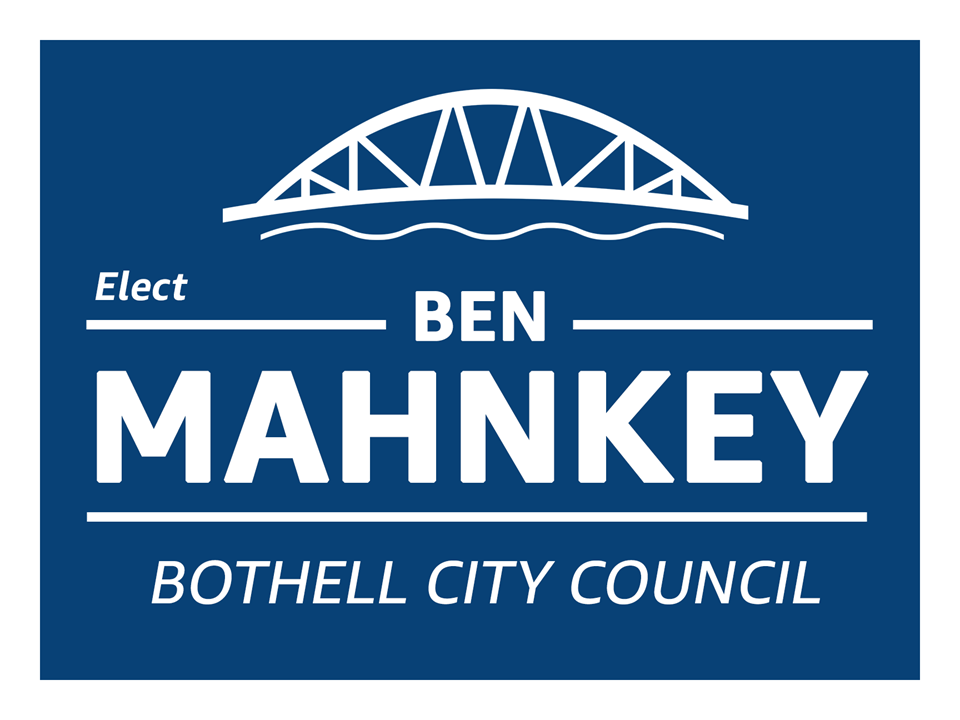 Candidacy Announcement
Longtime Bothell Resident Ben Mahnkey Formally Announces Election Campaign
Bothell, WA – January 18, 2021 – Longtime Bothell resident Ben Mahnkey today formally announced his intent to run for election to the Bothell City Council. He has filed with the Public Disclosure Commission (PDC) without declaring a specific position, but all positions represent citizens of the entire city. His announcement is provided below:
Friends and Community Members,
I am excited to announce my candidacy for Bothell City Council. As a citizen of the city for over 25 years, I have watched it transform from a small community of 24,000 residents to a booming suburb of more than 48,000. After graduating from Bothell High School in 2001, I went to college in eastern Washington and then moved to the Midwest for my first job. It did not take me long to realize how much I missed the Pacific Northwest and more specifically, Bothell. As a result, I returned home, met and married my wife (also from Bothell), and bought a house in Canyon Park just three miles from the home where I grew up.
After purchasing our home in 2012, I began to attend City Council meetings on a regular basis. When presented with the opportunity to become more involved, I applied to serve on the Bothell Civil Service Commission, where I have been contributing for the last 7 years. I have also received several other appointments from the City and from Snohomish County over the last few years, including Chair of Bothell's City Council Salary Commission, Board Member of Bothell's LEOFF I Disability Board, and Vice Chair of the Snohomish County Ethics Commission.
The city is at a pivotal crossroads and is facing serious issues including:
Financial Stability – unbalanced budget, underfunded reserves, unfunded assets requiring replacement, three times as much debt as comparable cities
Downtown Redevelopment – after 15 years and $15MM in clean-up costs, the revitalization of downtown is still not complete, an unknown amount of environmental liabilities still exist, remaining city-owned properties cannot be sold, and the city has no timeline for completion of the project
Public Open Spaces, Affordable Housing, and Culture – we need to build a stronger community by creating permanent community gathering spaces (ex. pedestrian only Main Street), influence affordable housing to retain younger and older generations, and preserve important parts of the city that make Bothell special
I don't see any easy or quick answers, but what I do see is an opportunity to become more deeply involved as a hands-on Councilmember that doesn't just set policy direction, but takes action and collaborates with others to find creative solutions that give us all a chance to live in a Better Bothell.
Campaigns cannot run without support from family, friends, and neighbors, so I would like to ask for your support in my candidacy to create a Better Bothell. Monetary donations, advocacy for the campaign within the community, and your ideas are all welcome! Will you join me?
Thank you in advance for helping me create a Better Bothell!
Ben Mahnkey
_____________________________________________________________________________________
Citizens for a Better Bothell 2020 Maltby Road, Ste 7-301, Bothell, WA 98021
BetterBothell.com | info@betterbothell.com | (425)900-3805
Venmo: BetterBothell | Paypal: ben@betterbothell.com
Facebook: BetterBothell | Twitter: BetterBothellWA